Lady Hillingdon Rose
---

---
A Tea rose described thus:
An outstanding rose, combining shapely, apricot-yellow flowers
with healthy, plum coloured shoots and grey-green leaves. Scented.
---

Back to rose planting
Return To Home Page
---
Hillingdon Court Locomotive
---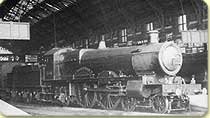 ---
Number: 2945
Class: Saint
Configuation: 4-6-0

2945 Hillingdon Court. Built June 1912. First shed allocation Bristol, Bath Road. Outside steam pipes fitted January 1938. August 1950 shed allocation Swindon. Last shed allocation Cardiff Canton. Withdrawn June 1953.
The 29XX or Saint Class of locomotives was introduced in the first decade of the 20th Century by George Jackson Churchward. The Saints displayed many excellent features in their design which profoundly influenced the design of all subsequent successful locomotives built for British railways until the end of steam operations in the 1960s.
A total of 76 were built.

Back to rose planting
Return To Home Page